Archive for the 'My Finds' Category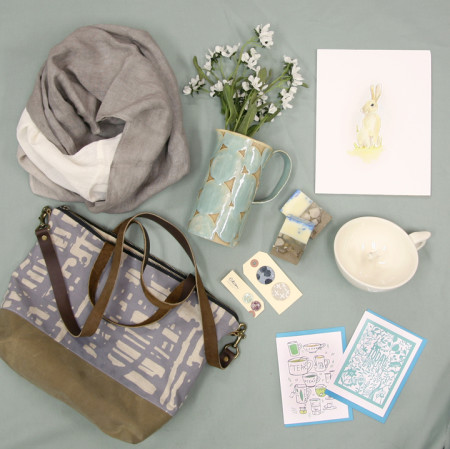 Spring is here and even though it was a few weeks ago that I was in Toronto for the One of a Kind Show here are my awesome finds from the show. Once I put them all together it seems I was really feeling the spring colours this time around. I'm totally in love with all of these finds!
Stoneware Vase / Porcelain Buttons | Eikcam Handmade Dress Ceramics I am really excited about this little jug that will now live in my beautiful new home. If you didn't have a chance to stop by her booth make sure to find her again as it was setup gorgeous and I could have literally bought one of everything. Just gorgeous.
Shoulder Bag / Fabric Buttons | Bookhou I have been admiring her work for so long now both through her awesome Instagram account (hit up my account for the link) and I've been wanting to visit her store as well. Just bursting with talent after years of creating and perfecting her craft.
Naturally Hand Dyed Scarf | Hatchet Made This scarf is beautiful and wears nice and light. I love that it is all dyed naturally and the nice soft brown will basically match everything in my closet.
Soap Bars | The Blue House Well besides this soap looking like you'd like to eat it … least it did for me … it has the most refreshing scent as well. It was made for a contest they have every year at the show and this year the theme was water. I think she nailed it and I bought the soap right off the display at the end.
Ogopogo Mug | Créations Li I own many pieces from vases to mugs, but the second I saw these ones being made I had to snatch them up. Seriously I get to rescue the little lock ness … or as I refer to it as the Ogopogo because I am Canadian … every morning while eating my cereal. It looks pretty fun in a frothy drink as well peaking out while you sip away. So much fun!
Cards | The Silk Pulp My awesome booth neighbour for the show and crazy cutting talent. Each of her designs is hand cut for the original pieces. Talk about the time it takes to create, but boy is it worth it to see. Since I have a love for cards it only seemed natural to scoop some up.
Rabbit Artwork | Blossom & SweetPea Critter Co To anyone who knows me and has stepped in my booth at any show you've likely seem my rabbits that are hanging out on display. I just had to grab another piece of artwork for my home and this was perfect.
Be sure to check out my posts on Facebook, Twitter and Instagram as it has links to the social media sites on each post so you can find them and grab awesome stuff for yourself. And most of all don't forget to always get out and support your local artists. There is so much talent out there. ~ natasha