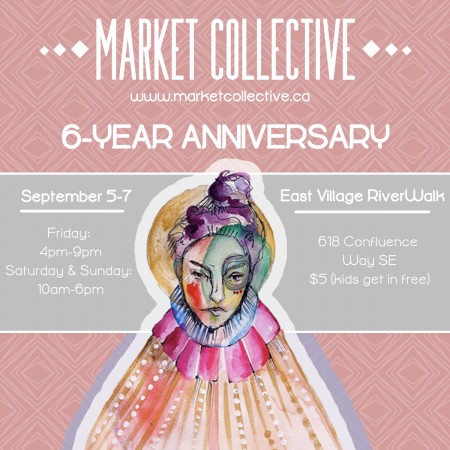 This past weekend I was down in Calgary one last time for the summer and it seems I saved the best for last. It was Market Collective's 6 anniversary birthday celebration and well I don't think it could have been any better than it was. The venue was absolutely perfect, the weather was amazing, tons of talented artisans, the best local live music and all the YYC food trucks. Seriously what else did you need. Oh and it was right next to the river.
I started doing Market Collective back at the beginning of 2010 and have tried to do everyone I could since. I think I only missed 1 or 2 since I began. Market Collective as many of you know has helped to shape many of my friends businesses with myself included in this bunch. Shows like this helped me to grow Whiteout W. into what it is today and I could never say thank you enough for having a show that support so much talent.
I truly hope if you live in Calgary and have never been you can make it out to the next one. It's worth a road trip for a great day of fun as well.
Like normal I can barely contain my spending habits and this weekend I got to pick up some pretty amazing find as well. This is some of the great handmade goodies you can find and are the new additions to my home.
Art Illustrations – Gloria Ho I don't know what it is about these little hipster bears, but I ended up buying all 6 of them who had little hats on. These will all be framed above my bed. I fell in love with each and every one of them and can't wait to get these framed and hung up!
Wood Block Printed Cards – Hop & Flop Who doesn't need to have a drawer of cards for the unknown event that might just call on it. Butter Up & Chill seemed perfect along with a rain cloud spitting a little waterfall. So much fun.
Ceramic Pin – S'more Society I know it is hard to see, but I picked up a little mountain pin that is going to be placed on my winter coat for the season. Each one of my winter coats has a small pin or broach and this one is going to be well loved.
Local Calgary Lifestyle Mag – Dote Magazine You had to know with my absolute love for print media I'd be all over this magazine and reading it line for line. After leading up design for 5 years on magazines it was so cool to see a brand new publication hit the scene I am so familiar with. It seems everyone else fell in love as well since they ran out. Watch their media outlets … I'm sure they'll have more for you soon enough
Ceramic Mug – Salty Sea Dog Designs With winter coming I figured it was time to add another tea drinking and relaxing mug to the collection. I managed to snag their last ship one and couldn't be happier. They do some pretty fun ceramics with great designs. Already have it filled with tea in front of me while I write this post.
Enjoy all your amazing new finds from this past weekend and hope to see you at the Christmas market coming up soon enough. Natasha
 Keep up to date and sign up for our newsletter (at the bottom of the page) or join us on Twitter, Facebook and our new Instagram page which shows you more behind the scenes in the studio!