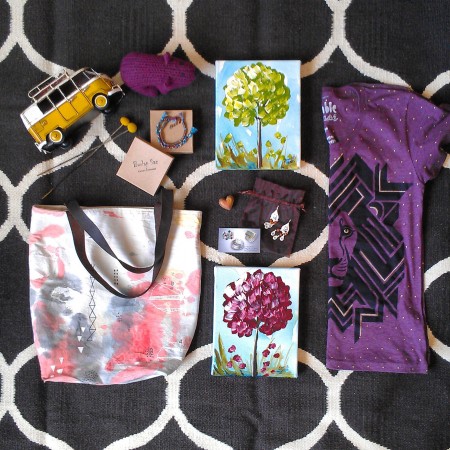 Here are some of my personal finds from this summer at all the festivals and markets I was at. I'm sure you've had some spending problems at these shows as well. I am surrounded by some of the most talented and inspiring people, so it is pretty hard to not spend a fair chunk of the money earned. These are some of the great find I absolutely fell in love with.
Drop Cloth Tote Bag – Dear Pony Out of Nelson, BC and so so talented. I have a hard time restraining myself from spending every last bit of money I earn when I enter into her booth. I was setup next to them at Calgary Folk Fest and when I saw this bag posted on instagram a few days after we'd packed up and left I had to find them again at Edmonton Folk Fest and snag it asap. LOVE IT!
Paintings – Giselle Denis I hope all you local Edmonton folks know of her and if you don't you really should. I went on a mission during ArtWalk in July and knew she'd have something perfect to fit on my bathroom walls. I love seeing these every morning when I wake up. Just awesome!
Graphic Silk Screened Tee – Mumble Tease Heather and I have been doing shows together for years and she is the maker of some of my favourite tees in my closet. You had to know I love tees being that is what I do for a living and this new addition to the bunch is going to get a lot of wear and love.
Silver Earrings – Yutal Now admittedly I am not a big earring wearing person, but I fell in love with these. Diane and I have been setup right next to or across from each other many times over the last few years and of course we were neighbours once again at The Fringe Festival. Please check out some of her jewelry … her and her husband make some gorgeous stuff.
Bracelets – Burlap Sac I had the pleasure of being next to Kayley at Edmonton Fringe Festival and I could barley refrain myself and kept it to a cool few hundred. Oh dear! Seriously so much amazing jewelry with just the right style for myself. I ended up buying matching bracelets for both my mom and I as a thank you for looking after Baron (my lovely dog) while I was away traveling to show this summer. They were perfect for us.
Westy Toy This came from a local shop here in town and oh my my!!! A YELLOW WESTY! This is very much a dream of mine, so hopefully one day soon you'll see in my newsfeed that I actually bought one. Might be a few years before I can afford one all fixed up. Until then this little toy will sit right next to my bed.
Hope you all supported the crazy amount of talent filling all the festivals in the summer too! Happy fall cloth wearing!!! Natasha
  Keep up to date and sign up for our newsletter (at the bottom of the page) or join us on Twitter, Facebook and our new Instagram page which shows you more behind the scenes in the studio!