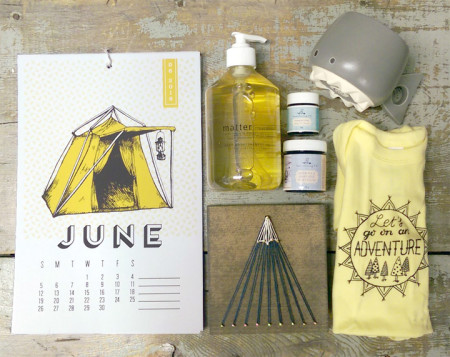 One of the lucky perks of doing what I do is that you are always surrounded by some of the most talented people you can imagine. They constantly push you to do better in your own business and create wonderful gifts for friends or just the perfect little gift for yourself. I normally can't stop myself shopping at the shows I attend and tend to find myself some pretty awesome new gifts … yes normally I am just shopping for myself. Here are just a few from this past winter season, which was our busiest one yet!
Winter 2015 Handmade Finds Silk Screened Calendar | Flakes Paperie Natural Body Wash and Shampoo | Matter Company Green Tea and Grape Seed Honey Polish and a Beauty Balm | Sweet Living Company Shark Mug | Creation Li Newborn Jumper | Little Orchard Co. Mountain String Artwork |Agnes in August
Custom Made Dress| Lunss.com
Keep on supporting all those handmade folks out there and hope you check these guys out. Many of them make their living creating these beautiful products for you to enjoy!
~ n
Be sure to check out my posts on Facebook, Twitter and Instagram as it has links to the social media sites on each post so you can find them and grab awesome stuff for yourself. And most of all don't forget to always get out and support your local artists. There is so much talent out there.