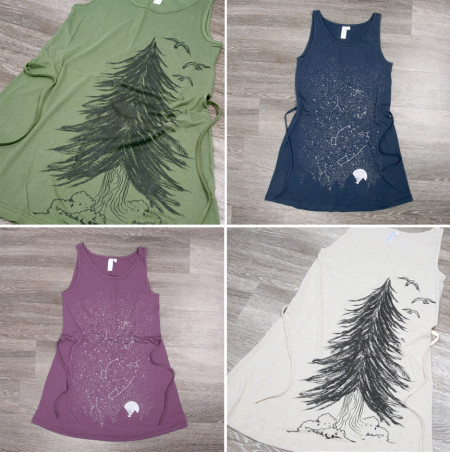 This is your last chance to grab yourself one of our super comfortable bamboo / cotton dresses!!!! We are almost sold out, which came at a bit of a surprise to me how early that happened, so I tip my hat to you. Thank you!
We are off to Calgary Folk Festival this weekend and basically what is left will be packed up and heading there, so grab them while you can.
Shipping as always is free on dresses and at only $42 for a locally sewn in Alberta dress, how do you go wrong? Every last one, as always, is silk screened by hand too.
Hope if you wanted one you were able to grab one and if not we will have our new tee dresses coming middle of Sept, so watch for those. If you want a sneak peak I posted my sample dresses we are currently tweaking a few weeks ago.
Hope everyone is having a great summer! ~ Natasha
Keep up to date and sign up for our newsletter (at the bottom of the page) or join us on Twitter, Facebook and Instagram page which shows you more behind the scenes in the studio!