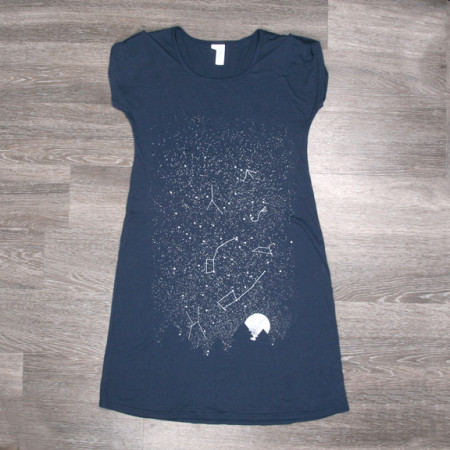 They're here!!! I've been working on these for almost 9 months now even posting earlier asking for your help with adjusting the pattern … thx for everyone who came and tried them on … and they're done. I am very happy with how they worked out and excited to have XXLarge (Size 18 – 20) now available in these after many requests.
Perfect for fall with a small cap sleeve and fit about 6 inches longer in every size compared to our summer tank dresses many of you have fallen in love with. All of these are sewn locally and of course silk screened by hand, by me, in my studio. Now available in 5 colour options with brand new colours and pattern coming in January as well. I truly hope you fall in love with these too.
Now available in the online shop and you'll find them locally at our Saturday booth at Strathcona Farmers Market. Because of the small sewing batches for these dresses you won't see them pop up at our Christmas shows, but please email me if you have any questions about sizing. Happy to help and have it delivered directly to your door instead with free shipping!
Get outside today! ~natasha
Keep up to date by signing up for our newsletter (at the bottom of the page) or join us on Twitter, Facebook and our Instagram page!